Who we are
Our vision at HG Retail is to deliver exceptional standards across a variety of food based retailing businesses. Customers are looking for a 'new way to shop' and we aim to deliver this by providing outstanding customer service, a broad range of products of the highest quality and value for money in a first class shopping environment. We can only deliver to these standards with the right people and we have worked hard to provide the relevant training, tools and environment for our staff to succeed.
In addition to owning seven IGA supermarkets and a number of other businesses, we also provide consulting services to those retailers that are either new to the industry or who are in search of assistance to help improve the performance and results of their own stores. If you believe that your hard work is not providing the level of return you think it should, feel free to contact us for a chat. We are happy to see if we can help.
We want to be proud of everything we do and we will continue to evolve our business to remain at the forefront of our industry.
Meet our team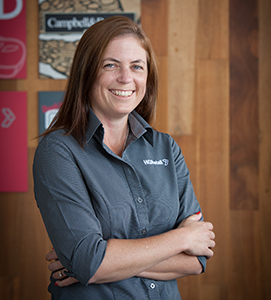 Raelene Hopper – Managing Director
With a family history in retail it was always going to be difficult for Raelene to break the mould and work in another industry. After finishing high school Raelene spent the best part of three years travelling the world from her base in Italy before eventually returning home in 2000 to work with her brother Brad in The Hopper Group. At that stage The Hopper Group consisted of the Stop and Shop at Kangaroo Point and the New Farm News on Brunswick St which Raelene ended up running with her partner Jon. Raelene has learnt the business from the bottom up and there isn't a role in the company from front end through to MD that she has not filled or does not understand intimately. This experience, her work ethic, sense of humour and passion for the industry have contributed immensely to the growth and ongoing success of HG Retail.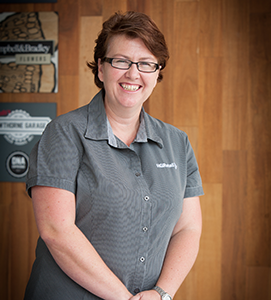 Nicole Benneyworth – Group Training/HR Manager
Nic started out in retail as a shy 14 year old gaining experience in a number of different industries including fashion, fast food and independent retail. She quickly realised the retail industry was for her and complimented her on the job education with tertiary qualifications, graduating in 2002. From there it was onto Eagle Boys as HR Manager before making the transition back to independent retail with Metcash in 2005, where she spent five years before joining the HG Retail in 2010. Nic is happily married with two youngsters and attributes her long career in retail to her love of people and always having a positive outlook.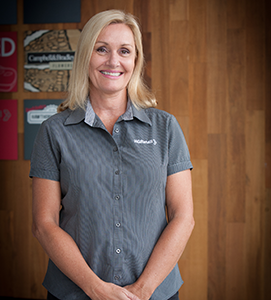 Sue Gribble – Marketing Manager
While Sue has always considered herself good at shopping, her move into working in independent retail presented a real change from years hanging out with clowns, tigers and thrill seeking junkies. Or maybe not. After more than a decade working for Australia's favourite family theme park Dreamworld, Sue joined HG Retail in July 2012 in the newly created role of Marketing Manager. With a background in Sales and Marketing, Sue's roles at Dreamworld and Treasury Casino and Hotel have seen her hone her marketing skills across a range of disciplines including event management, sponsorship, media, advertising and promotions. She's a regular at her 'local' Hawthorne Garage and loves fashion, food, family and friends. Not necessarily in that order.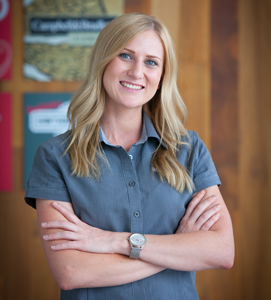 Stacey Boucher – Fresh Specialist
When Stacey set off from England on a working holiday in 2012, she didn't factor she would fall in love with Brisbane. But she did and she has happily made it her new home. Stacey started working in retail as a 16 year old while studying for her degree in Social Welfare. After completing her studies, she realised she had a real passion for food and retail and embarked on a career in this field. She managed a gourmet organic farm shop for 5 years before moving to Australia and joining HG Retail. Her passion for food was soon realised as a real talent and Stacey stepped in to the newly created role of Gourmet Specialist in 2016 with our expanding gourmet, health and lifestyle departments flourishing under her management.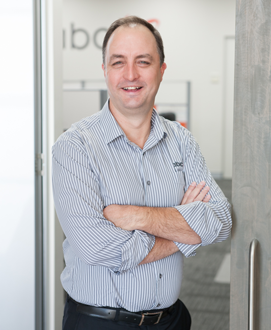 Michael Beer – CEO of ABCIS
Michael got his first start in the industry as a 12 year old boy packing shelves of an afternoon at the local corner store. After completing school, Michael worked at Qantas for close to 10 years before making his way back to the industry as a supplier of IT equipment with NCR. Michael moved to Queensland in 2001, and soon after took up the role as State Manager, subsequently promoted to General Manager, with Worldsmart Retail, getting a thorough grounding in the workings of Metcash, IGA, and independent retail as a whole. He joined HG Retail in 2014 in the newly created role of CEO which he held for just over two years before partnering with HG Retail in ABCis. Michael is a passionate advocate of the independent industry and a strong believer in innovation being the key to the future success of our industry. Michael has a Masters of Business Administration from the University of Technology in Sydney, is a keen Sharks fan and lives with his wife, three kids and rhodesian ridgeback in the western suburbs of Brisbane.
Join Our Team
Are you looking for a career in retail? We are always on the lookout for the right people to join our business. If you are a team player, enjoy helping others and have a positive attitude, click on the link below to look at available positions.